Creo Parametric = huvudprogram och en sk huvud app i programplattformen Creo 3.0 . Creo Parametric = Creo Elements/Pro = fortsättning på Pro/ENGINEER Wildfire 5.



Creo Parametric | NYA re-engineered Pro/ENGINEER | pdf-spec nya Creo Parametric benämns även Creo Essential |
---
---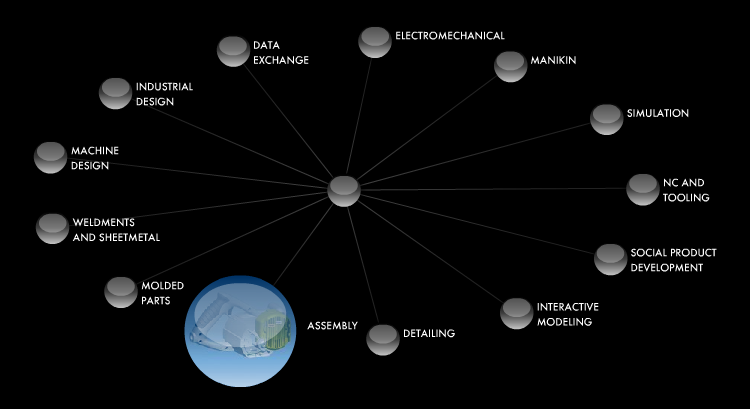 PTC Creo Parametric ger det bredaste utbudet av kraftfulla och nu även mest flexibla 2D och 3D CAD-funktioner för att påskynda produktutvecklingsprocessen. Tackvare smart databas styrs ritningar och 3D modeller hand i hand utan risker för fel.
Genom att automatisera uppgifter som att skapa tekniska ritningar, du kan undvika fel och spara mycket tid.
Mjukvaran kan även utföra analyser, skapar renderingar och animationer, och optimera produktiviteten i ett komplett utbud av
andra mekaniska konstruktionsuppgifter, bland annat en check på hur bra din design i överensstämmelse med bästa praxis.
PTC Creo Parametric kan du designa högre kvalitet snabbare och gör att du kan kommunicera mer effektivt med tillverkning,
leverantörer och dina kunder.
Funktioner och fördelar:
Snabbt och enkelt skapa 3D-modeller av någon del eller montering

Skapa tillverkningsritningar automatiskt med fullt förtroende pga de kommer alltid att behålla nuvarande utformning

Förbättra design estetik med heltäckande ytbeläggning kapacitet

Återanvänd neutrala och icke-PTC CAD-data från kunder och leverantörer enkelt,
undvika behovet av att konvertera filer eller återskapa 3D-modeller från scratch

Få omedelbar tillgång till omfattande läromedel och handledning inifrån produkt för att få produktiva snabbare
För mer info bl a om PDM => kontakta oss så skickar vi länkar + info eller ni får allt enkelt via telefonsamtal.

Priser är endast för allmän information. Kontakta PTC utbildade säljare.
Fråga PTC specialist, ring 031- 290079 eller e-post PTC-OFFERT.

1. Creo Parametric, huvudprogram = Creo 3 plattformen.
Creo Parametric = nya Creo plattformen för tidigare Pro/ENGINEER Wildfire 5.
Huvudprodukten passar de flesta konstruktörer, designers, verktygsmakare, konsulter m fl.
licenspris+ supportavtal 1 år = Totalpris i SEK ex.moms.
GRUND paket: ~80.000. Expert:~100.000kr. Auto-supplier: ~160.000kr beroende på innehåll (leasing appr. 3.700--5.000/mån)

- Creo concept usa-web
- Creo CAD software creo-new-cad
- Jämför Creo<mot>ProE wildfire5.... creo-vs-proew5
- PTC Sve pdf Creo-Parametric-Svensk-översättningt (pdf)
- PTC Creo 2 Creo2 Parametric SPEC (pdf)
- PTC Creo 3 Creo3 Parametric SPEC (pdf)
- PTC vanliga frågor-svar Creo-2.0-frågor-svar (pdf)
- PC krav dator-krav (databas - uppdateras)
OBS: Numera bättre söka workstation grafikkort t ex via tillverkarens hemsida.
- Hitta Grafikkort: nvidia.com eller ati.com = de rekommenderar rätt kort.
- PTC spec Pro/E dvs sista sk riktig pc-spec pdf från tidigare release)
2. LICENSPAKET - senaste Creo 3 paketen Creo Engineer I - IV....New_Engineer-pack
FD utökade Pro/E paket => näst senaste Creo Elements/Pro paket
(hitta först nödvändiga moduler/funktioner och därefter kan er Pro/E kontakt rekommendera paket eller lösa moduler)
utgått > ny strax > Pro/E Advanced SE, A-Se (Pro/E-FXE + PDMLink + web-server)
utgått > ny strax > Pro/E Advanced XE, A-Xe (Pro/E-FXE + PDMLink + en ur lista)
utgått > ny strax > Pro/E Enterprise SE E-Se
utgått > ny strax > Pro/E Enterprise XE, E-Xe
Jämför package comparison


3. PDM & PLM-länk Data Management (jmf lista PTC´s egna program)
4. INTRALINK (endast äldre installationer. Kan uppgraderas till PDMLink)
Nytt se: PDMLink Essential = färdigt paket för web-nedladdning + lätt installation + färdiga mallar
utgått > befintliga > Pro/E INTRALINK Single-Site. xx.000kr + x.800kr = xx.800kr
utgått > befintliga > Pro/E INTRALINK Multi- Site. xx.500kr + xx.700kr = xx.200kr
upgrade: Single- till Multi-Site. xx.500kr +*xx.700kr = xx.200kr
*upgraderas till ny årskostnad fr o m leveransdag.
(extra oracle-licens på ca 4.000kr tillkommer om man ej har tidigare, ev. finns variant)


WINDCHILL- overview and products - översikt - pdf

5. PDMLink ett omtyckt PLM program i Windchill serien
- innehålls översikt på PTC web
- PDMLink Demo & Tech Tips web-sida
- Windchill PLM-översikt-pdf
- PDMLink pdf
- Läs om nya här => PDM Essentials
Windchill PDM-Essential standard billigast-nytt
Windchill PDMLink Heavy User xx.600kr + x.140kr = xx.740kr
Windchill PDMLink Light User xx.900kr + x.180kr = xx.080kr
Windchill PDMLink Ext.User xx.700kr + x.930kr= xx.630kr
Windchill PDMLink view/print x.910kr + x.180kr = x.090kr(big pack 100+)
Arbortext Content Manager appr
exempel på inkoppling av olika cad-system
- workgroup AutoDesk AutoCAD x.670kr + x.130kr= x.800kr
- workgroup AutoDesk Inventor x.760kr + x.750kr= xx.510kr
- workgroup Dassault SolidWorks x.760kr + x.750kr= xx.510kr
- workgroup Dassault CatiaV5 xx.330kr + x.270kr= xx.600kr
- workgroup el-elektro E-CAD xx.180kr + x.640kr= xx.820kr

upgrades:
IntraLink single > 1xPDMLink heavy
IntraLink(aktiv) > 2xPDMLink heavy
6. ProductView Vizualization Alla kan se cad-filer. Se spec. jämförelse/lista här.
ProductVIEW översikt - startsida om produkter (ej pris)
ProductVIEW Professional - Express - gratis - se och snurra, ej mäta
ProductVIEW Professional - LITE lätt version.
ProductVIEW Professional - V9.1 1 reg.user
ProductVIEW Standard Edition - Unix.............
ProductVIEW Standard Edition - Windows.....
ProductVIEW Standard Edition - extern win.
ProductVIEW Standard Edition - extern unix.
7. Simulation Products
Creo Simulation-Option pdf-Mechanica
Creo AdvancedSimulationOption
Pro/E Behavior Model Extens (BMX)
Pro/E MechanismDynamicsO.
Pro/E Fatique Advisor Option
8. Design Add-Ons (prerequisites: Pro/E foundation or equivalent)
Pro/E Advanced Assembly Extension (AAX) pdf
Pro/E Interactive surface design ext.II (ISDX-II)
Pro/E Piping and Cabling Ext
Pro/E ISOGEN Piping and Cabling Ext (ISO)
Pro/E ISOGEN Piping+Cabl.Ext upgrade (ISO up)
Pro/E Advanced Rendering Extension (ARX)
Pro/E Reverse Engineering Extension (REX)
9. Production Add-Ons (prerequisites: Pro/E foundation or equivalent)
Pro/E Prismatics and Multi-Surfaces Milling (pdf)
Pro/E Tool Design Option (TDO) >>>>>>>
Pro/E Expert Moldbase Extension (EMX)
Pro/E Complete Mold Design Extension
Pro/E Progressive Die Extension (PDX)
Pro/E Expert Framework Extension (EFX)
Pro/E Plastic Advisor Extension >>>>>
Pro/E Production Machining Option(PMO)
Pro/E Complete Machining Option >>>>> (pdf)
Pro/E Computer Aided Verification Option
Pro/E NC Sheetmetal Option >>>>>>>>>>
Pro/E Prismatics and Multi-Surfaces Milling
Upgrade:PMO > Complete Machining Opt.
Upgrade:mini NC> Complete Machining O. r
Uppgradering från mindre till större ev. äldre till nytt finns i olika steg.
Uppgraderingar är beräknade på att kunden har gällande supportavtal/teckna nytt.
10. Pro/TOOLMAKER
PTC Pro/TOOLMAKER

11. Special - extra options
Pro/E Reverse Engineering Option >>>>>>>>>> >>>>>
Pro/E Interface for Catia V5 + ATB for Catia V4 kunder
12. MATHCAD (beställ via oss = billigare än web-order + ni får vanliga faktura + möjlighet till upgrade-avtal)
PTC MathCAD locked lic 10.866kr extra nu Xxxx kr via kreditkort,
Bevara värdet med upgrade+supportavtal (frivilligt).
PTC 5 pack MathCAD lock-lic
PTC MathCAD floating licens
PTC 5 pack MathCAD float-lic
Kontakta oss för senaste pris + paket.
13-15. Arbortext pdf-info
Note: Only windows platform for locked license.
Only one home license/home and only as add-on to locked license.
Arbortext Editor - L - Locked license
Arbortext Editor - F - Floating license
Arbortext Editor - L - Home Add-On

14. Arbortext IsoDraw info
Varför använda Arbortext IsoDraw? 10 PTC svar HÄR!
CAD-format: Pro/E and IGES, VRML, STEP, VDA, SAT, and Parasolid
Arbortext IsoDraw Foundation - L - Locked license
Arbortext IsoDraw Foundation - F - Floating license
Arbortext IsoDraw CADprocess L - Locked license
Arbortext IsoDraw CADprocess F - Floating license
Arbortext IsoDraw 3DExtension L - Locked license
Arbortext IsoDraw 3DExtension F - Floating license
Option: IsoDraw 3D Extension enables Arbortext IsoDraw to incorporate 3D CAD data.

15. Arbortext IsoVIEW Distribution Kit - Site license
Arbortext IsoCompose_______ L - Locked license

Windchill extra module Arbortext Content Manager
16. Kurser - UTBILDNINGAR (se kurser för detaljerad info)
För kontakt: Pro/E specialist HÄR eller ring 031-290079 och fråga efter Pro/E kurser.
De vanligast kursalternativen:
1. PTC-1 certifierade/PTCkurser - SEK 3.400/dag/elev => Kurs 17.000kr/elev resp Intensiv för 24.800kr(anpassas).
2. PTC-2 certifierade/Prokurser special
3. Xdn-3 Schema/ej PTC certif. - special
4. PTC-4 certif./PTCinternetkurs - Bästa grund-paketen oftast på ca 10.000kr
5. PTC-5 certif./e-kursbibliotek - Exempel: 10.000kr/user + upgrade 1.700kr/år = "oändliglicens", repeterbara kurser
6. PTC-6 certif./e-kursbibliot.hyra - Exempel: 5.600kr/user/år + support/upgrade 530kr/år = hyra/år, repeterbara kurser
Se sidan med kursschema för info om skillnader mellan kurser.
17. Extra erbjudanden just nu: Kontakta Tomas för special-paket-priser.


Xtra: Kolla dessa specialpaket = få mer för pengarna: Pro/E länk översikt ..... numera andra namn men visar kombinationere
(samma som specialpaket under core products)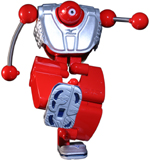 Related Resources
Jämför Pro/ENGINEER =>Creo ELEMENTS mapp-lista-här.
Här nedan finns äldre material för beskrivning av tidigare moduler.
Använd gärna mapplistan för att se motsvarande funktion i nya Creo 1.0.
_______________________________________________



Klicka på länk för nya paket: www.ptc.com/products/proe/newpackages/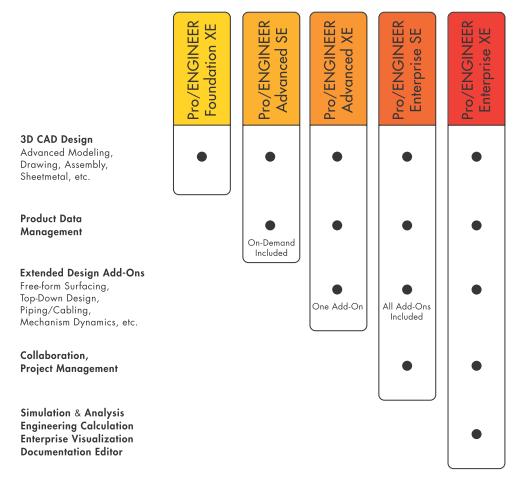 Pro/E priser innehåller licenspris + supportavtal. Licenspris är en rättighet och den blir värd mer med supportavtal.
Ovan är de vanligaste paketen med pris för 1 st samtidig användare sk flytande användare för PC och nätverk.

Finansiering finns i olika former. Leasing från t ex 1.700/mån och uppåt beroende på produkt och tid.
Utbildning finns i olika nivåer. Från certifierade kurser i Göteborg/Stockholm till lokala experter som erbjuder konkurrenskraftigt pris och utför uppdraget hos er. Kanske en 2, 3 eller 5 dagars kombinerad utbildning - handledning hos er? Först 2 dagar + 2 senare tillfälle + 1 dag som summerar problem, möjligheter och nya metoder.

OBS! Reservation för ändringar och ev. felskrivningar i ovan priser. Kontakta oss för att säkerställa ert pris.